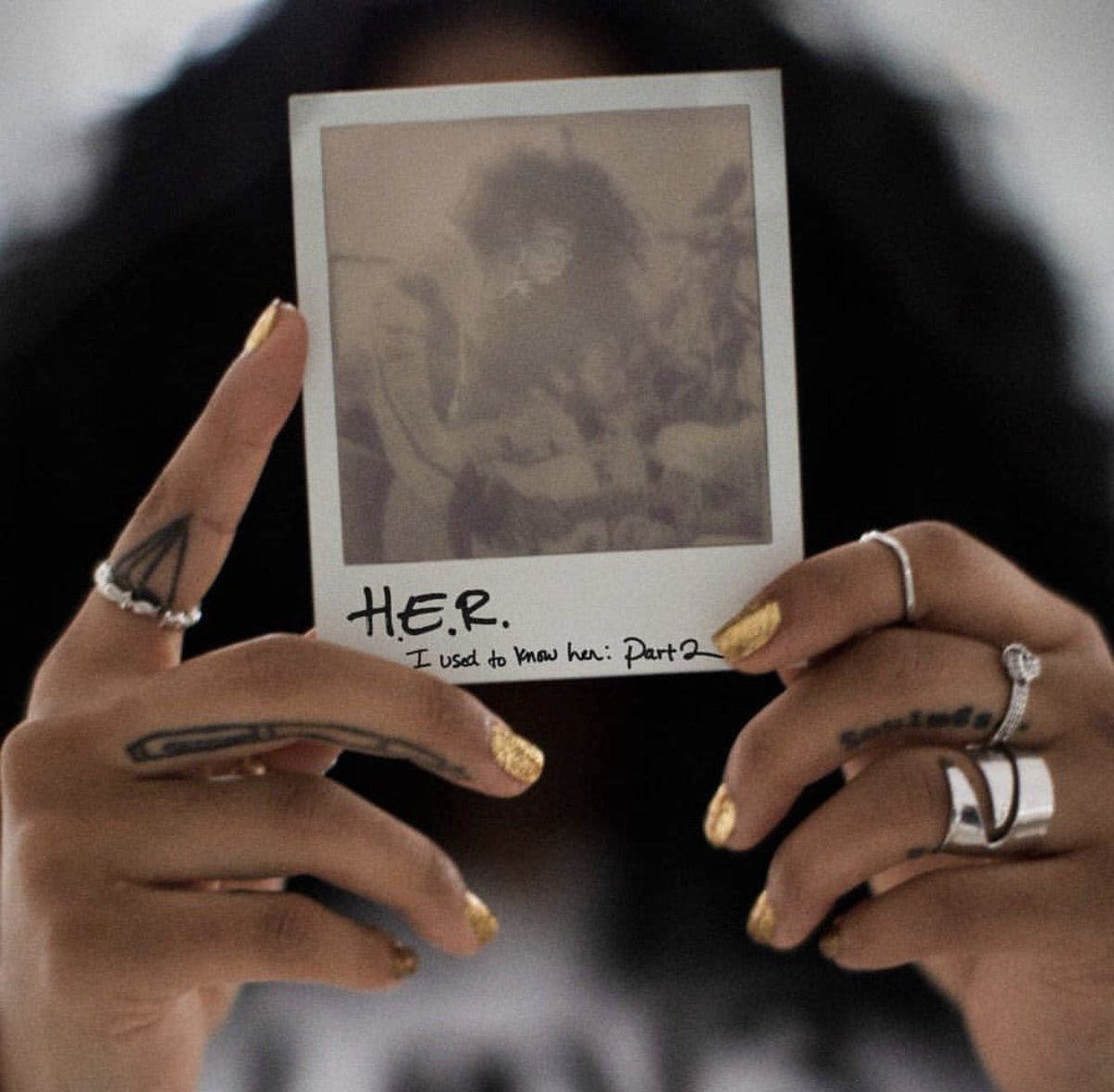 At just 21 years old, H.E.R. — whose real name is Gabriella Wilson, and whose stage name is an acronym for Having Everything Revealed — is playing by her own rules, releasing a series of EPs that defy the regular pattern of albums and singles.
Wilson signed to Sony when she was just 14 years old, and was featured on the Today Show at just 10 years old performing the Alicia Keys song "If I Ain't Got You." Now signed to RCA records, H.E.R. has dropped five EPs going back to September, 2016. The first three EPs were put together to make the H.E.R. album, and now she is in the midst of EPs within the I Used To Know Her concept. The beauty of putting out music in short-format EPs is that there has been a steady stream of that good music for the past two years, without any bad tracks or filler.
In an interview with Ebro for Beats 1, H.E.R. talks about musical influences, calling Lauryn Hill one of her "Top 5" and sharing that Aretha Franklin is her favorite vocalist. She also explains the inspiration for the title of this series:
I moved out of the Bay... now I'm in New York City and now everybody's saying, "I used to know her." Some people that know who I am... and maybe used to push me aside or disregard me or say I was nobody is now like, "I used to know her." It's also me trying to get back to my younger self, that fearless little girl who just did music because it was all I wanted to do... [I'm] reminding myself that the reason why I'm doing this is because it comes naturally to me, it's god-given, and there's nothing else I'd want to do and there's nowhere else I'd rather be than sitting here with you and on a stage every single night... just expressing myself.
Released on November 2, 2018, three months after I Used To Know Her: The Prelude tapped into more of a hip-hop and modern R&B vibe in terms of the productions and vocal performances, I Used To Know Her Part 2 veers back to the smoother style that captivated R&B fans on her earlier releases. Meaningful lyrics, dreamy vocals, and soft-and-sweet beats take us through H.E.R.'s journey in life and love over the course of eight songs covering 28 short minutes.
H.E.R. spoke with High Snobriety about her musical progression from her first H.E.R. EPs to I Used To Know Her:
...it's definitely more organic, more musical, more open... It's more pieces to the puzzle of my perspective that I've created up until now. I'm 21-years-old, and I've experienced a lot of things being on the road, with other people, meeting other people, meeting relationships, whatever it is, I Used To Know Her is my perspective, and where I am currently at in the things I've been thinking about and going through, and so it's going to be that collection of stories.
I Used To Know Her Part 2 starts off strong with "Carried Away," a layered song with a funky beat. H.E.R. admits that she is scared to fall in love. She has experienced heartbreak before and doesn't want to go through it again, so she warns future potential lovers, "Please, don't let it be for nothing before we get carried away... Don't wanna take my chances if this ain't it / If you're not sure then let me go."
"Can't Help Me" is a gentle track with acoustic guitar and soft drums in the background. Following up on the first track, H.E.R. apologizes for reacting negatively to insecurity about her relationship. She sings through her thoughts because she's "done screaming" and arguing.
Listeners get a glimpse of H.E.R.'s fragile mindset in "I'm Not OK," where she talks about uncertainty in a relationship while she's away from home, working. She feels stressed out and insecure and wants her lover to validate that their relationship will be okay, crooning, "Take me home, hold me close. Please don't let me go. I don't know, I don't know. Can you call from wherever you are?" She is pleading for reassurance that her lover isn't "slipping away."
"Take You There" is a slow, romantic ballad, the only one like this on the EP. Over an angelic piano, H.E.R. describes being apart from her lover and missing the connection they had, but needing the distance. Now she's ready to make up and show her lover the "Heaven on Earth" that she feels when they're together.
"Going (Interlude)" tells the story of the struggles of being in a relationship while being a working artist who's constantly on the road. H.E.R. describes being extremely busy and never having time to see her lover. She tries her best to sustain the relationship, hopping on last-minute flights and attempting to plan phone calls, but won't slow down her career for love. The line, "Baby that's all I can give right now, maybe that's just what it is right now," is repeated quite a few times in this short, sweet interlude. She wants her lover to enjoy the time that they do get to spend together and wait out this busy period in her life.
On "Hard Place," H.E.R. vocalizes an inner battle or unhealthy relationship, singing, "I'd rather fight than lose sleep at night, at least you're all mine. And if I have to choose, my heart or you, I'm gonna lose." She's so happy and in love that she wants to ignore all the bad parts of her relationship.
"Fate" is a somber tune that starts off with, "I'm lost, is it even really my fault?" It is H.E.R.'s plea for the universe to have mercy on her as she wonders why so many bad things are happening to her. She doesn't go into details about her struggles but it is clear that she feels tired and pushed to her limits. H.E.R. questions why everyone else in her life seems to not have any problems, while she seems to be being punished for every small mistake she's made in her life.
The EP ends on a strong note with "Lord is Coming." The powerful track starts off with a bare acoustic bass and H.E.R. delivering a verse of spoken word poetry, which something she has incorporated before and something that sets her style apart. Addressing problems in society ranging from gun violence and politics to drug addiction and depression, this is clearly the most socially conscious song on the album. The beat develops, as backing vocals, synth pads, and heavier drums come in and the poem transitions to a ballad with Biblical references that assures listeners that the world will be okay.
I Used To Know Her Part 2 is another impressive project from H.E.R. Gabi Wilson uses a beautiful combination of mellow instrumentals, her soft voice, and relatable lyrics to make modern R&B music with a classic twist. Our favorite songs are "Carried Away," "I'm Not OK," "Going (Interlude)," "Hard Place," and "Lord Is Coming."
The EP available on all major streaming platforms, including Amazon.
Check out the H.E.R. Zumic Artist Page for tour dates and more.